In 1891 Minnie M. Geddings Cox was the first black postmistress in the United States. President Benjamin Harris appointed her to the post and President McKinley reappointed her in 1897, and the appointment drew controversy from whites who wanted blacks removed from leadership positions. In 1902 she offered to resign; however, President Roosevelt refused her resignation.
Increasingly, blacks were being removed from leadership positions. Local white residents of Indianola now demanded that Mrs. Cox resign as postmaster. Local authorities refused to support her, and under pressure and threats of violence, she was forced to resign. She left town temporarily.
The events in Mississippi caught the attention of President Theodore Roosevelt. Believing that Mrs. Cox had been treated unfairly and that the authority of the federal government was being influenced by local racist pressure, he refused to accept her resignation, and instead closed the Indianola post office on Jan. 2, 1903. Mail was rerouted to Greenville, a town 25 miles away. The office remained closed for a year while Mrs. Cox continued to receive her postmaster's salary.
The Indianola affair, as it was called, sparked a debate on the Senate floor. South Carolina Sen. John McLaurin argued that Roosevelt had closed the post office and rerouted the mail to spite the citizens and that Mrs. Cox had not been forced to resign. Wisconsin Sen. John Spooner defended Roosevelt's actions, arguing constitutional, rather than racial aspects of the incident.
For the next year, the Southern press reported every detail. Politicians called Roosevelt a Negrophile and accused him of closing the post office to get black votes. They argued that Roosevelt should have just given in to the wishes of the white citizens – who were in the minority in Indianola.
The post office was reopened in 1904. Roosevelt appointed William Martin, a friend of Mrs. Cox as postmaster. The post office was demoted to non-presidential fourth-class rank on the basis that no revenue had been received.
Not to be defeated, the Coxes returned to Indianola and organized the Delta Penny Savings Bank, the largest African-American owned bank in the state at the time. Hit by the approaching Depression, however, the bank failed on January 7, 1928. Meanwhile, the couple was engaged in other successful businesses. In 1909, the Coxes helped organize the Mississippi Beneficial Insurance Company, believed to be the first black-owned life insurance company.
The Cox's Indianola home, located in a present-day city park, was demolished in 1960. The park is now known as 'Minnie Cox Park' and the current Indianola Post Office, built in 1935, is now appropriately named for Minnie Cox.
"Ironically, the same white citizens who forced Mrs. Cox to resign as postmaster now put their money in her husband's bank."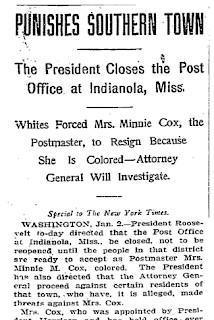 Let us know what you think of our stories by leaving a comment.